Winter can be a tough time to cycle. The cold, the wind, and the rain can make it a challenge to get out on your bike. But with the right gear, you can make cycling in winter much more comfortable and enjoyable. One important piece of gear for winter cycling is shoe covers. Shoe covers help keep your feet warm and dry in cold weather, which can make your ride much more comfortable.
In this detailed guide, we will give a personal review of several different types of winter cycling shoe covers and share our thoughts on each one. We have personally tried different types and brands and listed the best ones we have found. Not only will your feet stay warm, but they will also be protected from the rain and snow. 
Winter Cycling Shoe Covers | Experts Review
These shoe covers are some of the best in the market and come in affordable ranges as well. Let's begin our review guide and check out our top 5 picks.
1. ReflecToes Full Reflective Cycling Shoe Covers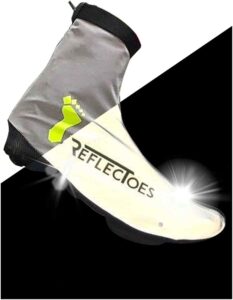 ReflecToes Full Reflective Winter Cycling Shoe Covers are ideal for users who want to enjoy their rides even during the darkest winter days. It is made of a high-quality, breathable, and elastic fabric that covers the entire shoe and reflects light back to drivers, so users can be seen even from a distance. 
The company has thought about users' safety and wants them to have fun while cycling. That is the main goal of ReflecToes: "to make users feel more comfortable and safe while riding their bikes during the wintertime." The product comes in two sizes and four different colors. Users can choose between small/medium or large/x-large, and between black, white, yellow, or red. There is also a money-back satisfaction guarantee so that users can feel confident about their purchases.
2. ROCKBROS Cycling Shoe Toe Covers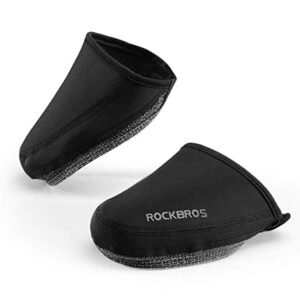 ROCKBROS Cycling Shoe Toe Covers are ideal for users who want the benefits of toe covers without the inconvenience of having to take their shoes off. The easy-to-use design means that users can quickly put them on and take them off, and the high-quality materials provide a secure fit that prevents the toe covers from slipping or coming loose during use.
The reflective material also increases visibility in low-light conditions, making them perfect for early morning or evening rides. In addition, the toe covers are designed to protect users' shoes from dirt and debris, making them an essential piece of equipment for any cyclist.
3. CXWXC Cycling Shoe Covers Waterproof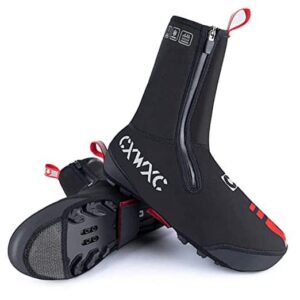 CXWXC Shoe Covers are made of a dense, stretchy neoprene that completely covers users' shoes. They have an elastic band at the ankle to keep them in place while users pedal and a reflective logo on the back for safety. The bottom of the shoe cover is textured with a grippy material to prevent users from slipping on their pedals. CXWXC Shoe Covers are ideal for cycling in winters because they keep users' feet warm and dry while they ride. 
The neoprene material is windproof and waterproof, so users' feet will stay comfortable even in cold, wet conditions. The grippy bottom helps users keep their footing on slippery pedals, and the reflective logo makes them visible to other cyclists and drivers in low-light conditions. Whether users are commuting to work or enjoying a leisurely ride on a snow-covered trail, CXWXC Shoe Covers are the perfect way to stay safe and comfortable while cycling in winter weather.
Seems like you love cycling, so you might be interested in 5 Best Cycling Gloves For Hand Numbness | Pro Riders Picks
4. Sportneer Cycling Shoe Covers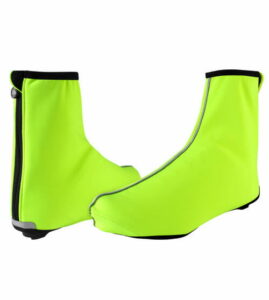 Sportneer shoe covers are designed to keep users comfortable and dry in all kinds of weather. The covers are made from a waterproof and breathable fabric that helps to regulate temperature, keeping feet warm in cold weather and cool in warm weather. They also feature a reflective strip that helps to increase visibility in low-light conditions. 
The soles of the shoe covers are made from durable rubber that helps to protect against abrasion and provide grip on wet or slippery surfaces. The cover is also equipped with an elastic band that helps to keep it securely in place. Overall, the Sportneer Cycling Shoe Covers are an ideal choice for cyclists who want to stay comfortable and dry in all kinds of weather.
5. HEKEDES Waterproof Cycling Shoe Covers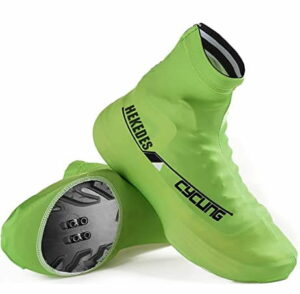 Designed with users in mind, HEKEDES shoe covers are ideal for those who enjoy cycling. These shoe covers are made from a breathable, water-resistant material that helps to keep feet dry, while the reflective striping on the side of the covers helps to make users more visible to drivers in low-light conditions. 
In addition, the snug fit of the shoe covers helps to prevent them from being caught in pedals or gear, making them ideal for use while cycling. Overall, HEKEDES Shoe Covers are an ideal option for users who are looking for a product that will help protect their feet while cycling.
Things to Consider Before Buying Cycling Shoe Covers
Here are 7 things to consider before buying winter cycling shoe covers:
1. Materials
The first thing you need to consider is the material of the shoe cover. You want something that is going to be durable and weatherproof. A common material used for winter shoe covers is neoprene. This is a water-resistant synthetic rubber that will keep your feet warm even in the coldest conditions.
2. Fit
Another important consideration is fit. You want to ensure the shoe cover fits snugly over your shoes, so there is no chance of them coming off while you are riding. They can easily get caught on something and come off if they are too loose. Conversely, if they are too tight, they can be uncomfortable to wear and might cut off circulation to your feet.
3. Ventilation
Ventilation is important in any kind of footwear, but it is especially so when you are going to be cycling in the cold. You want to make sure your feet can breathe and don't overheat. Some winter cycling shoe covers have vents built to allow airflow.
4. Reflectivity
Another safety consideration is reflectivity. When riding in dark or low-light conditions, you want to make sure you are as visible as possible to other cyclists and motorists. Look for shoe covers that have reflective accents or even better, ones that are made entirely of reflective material.
5. Cleat Compatibility
If you ride a road bike with clip-in pedals, you must ensure your shoe cover is compatible with your cleats. Some covers have a hole in the bottom so that you can still clip in, while others are made to be worn over your shoes without cleats.
6. Style
While function is the most important thing to consider when choosing winter cycling shoe covers, you might also want to consider style. After all, you are going to be wearing them out in public! There are lots of different designs and colors available, so you should be able to find something that matches your style.
7. Price
Finally, you need to consider the price. Winter shoe covers can range in price from around $20-$100 or more. It is important to find something affordable for you but also be sure to consider the other factors on this list before making your final decision.
With these seven things in mind, you should be able to find the perfect winter shoe covers for your needs. Just be sure to shop around and compare prices before making your purchase.
Some Last Words
With the right insulation and protection from the elements, a good pair of cycling shoe covers can make all the difference on those cold winter days. We have tested a few different options and found the best winter cycling shoe covers on the market. So if you're ready to stay warm this winter, check out our recommendations! 
And if you need any help choosing the right pair of shoe covers for your needs, don't hesitate to get in touch with us. We love helping cyclists find the perfect gear for their next ride.
Frequently Asked Questions
Q1. What are the benefits of cycling shoe covers?
Winter cycling shoe covers provide several benefits for cyclists. They help keep your feet warm and dry, improving your comfort while riding in cold and wet conditions. Additionally, they can help protect your shoes from road grime and salt, which can extend the life of your footwear. 
Q2. How do I choose the right size cycling shoe cover?
It is important to choose a size that will fit snugly over your shoes without being too tight. You also want to ensure that the material will not rub against your skin, which could cause discomfort. It is best to consult with the manufacturer's sizing chart to ensure a good fit.
Q3. How do I care for my winter cycling shoe covers?
Caring for your winter cycling shoe covers is important to extend their lifespan. After each ride, you should rinse them off with clean water. This will remove any dirt or salt that could damage the material. You should also allow them to air dry completely before storing them away. When not in use, it is best to keep them stored in a cool, dry place. 
Q4 What are some common problems with winter cycling shoe covers?
Common problems with winter cycling shoe covers include poor fit, leaks, and durability issues. Make sure to choose a size that fits snugly over your shoes and consult the manufacturer's care instructions to help avoid these issues.